The name Elswick became synonymous with naval technology and shipbuilding. the opening of Elswock Shipyard, which stood on this site, was the culmination of the creation of an industrial empire. Armstrong entered into shipbuilding by cooperating with C.W. Mitchell's yard at Walker in the construction of a gunboat for the Admiralty in 1868.
This followed in 1882 by the amalgamation of the two firms as Sir W. G. Armstrong, Mitchell & Co and two years later by the opening of the Elswick yard. The Walker yard was left to concentrate on the building of merchant ships, whilst at Elswick warships were built and armed. The awesome output of fighting ships which took place in the following thirty years produced some of the most prestigious and terrifying ships of war the world has ever seen. Beginning with two cruisers the Panther and the Leopard – for the Austro-Hungarian Navy, and then the mighty British ironclad battleship, the Victoria, the yard produced a wealth of ships for the navies of the world.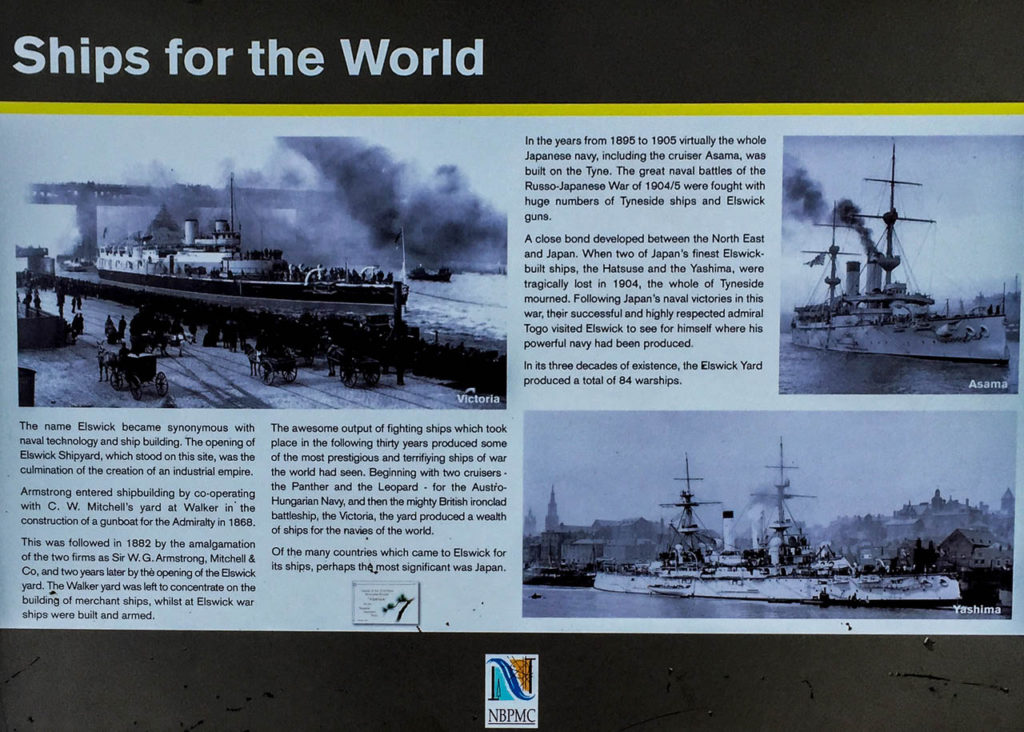 Of the many countries which came to Elswick for its ships, perhaps the most significant was Japan. In the years from 1895 to 1905 virtually the whole Japanese navy, including the cruiser Asama, was built on the Tyne. The great naval battles of the Russo-Japanese War of 1904/5 were fought with huge numbers of Tyneside ships and Elswick guns.
A close bond developed between the North East and Japan. When two of Japan's finest Elswick-built ships, the Hatsuse and the Yashima, were tragically lost in 1904, the whole of Tyneside mourned.
Following Japan's naval victories in this war, their successful and highly respected admiral Togo visited Elswick to see for himself where his powerful navy had been produced. In its three decades of existence, the Elswick Yard produced a total of 84 warships.
Related pages