Exhibition Park Timeline.
1870 The Town Moor improvement Act of 1870 outlined that parts of the moor were to be allocated for recreation and two areas, Castle Leazes and the Bull Park were chosen and became known as the Recreation Moor. The Town Moor was used for agricultural shows in mid 1800s.
1875 The Bandstand was built to form a focal point in the Bull Park. The Bull Park was originally used for grazing lifestock prior to becoming an area for public recreation.
1880 The North of England Institute of Mining and Mechanical Engineering was established in 1852. In the 1880s the institute developed plans for an exhibition to promote their industries.
1887 An Exhibition as held in the year of Queen Victoria's Golden Jubilee. The central feature of the exhibition was a square linear building around a central court. The court contained an oval shaped parterre with a bandstand in the centre and a reservoir.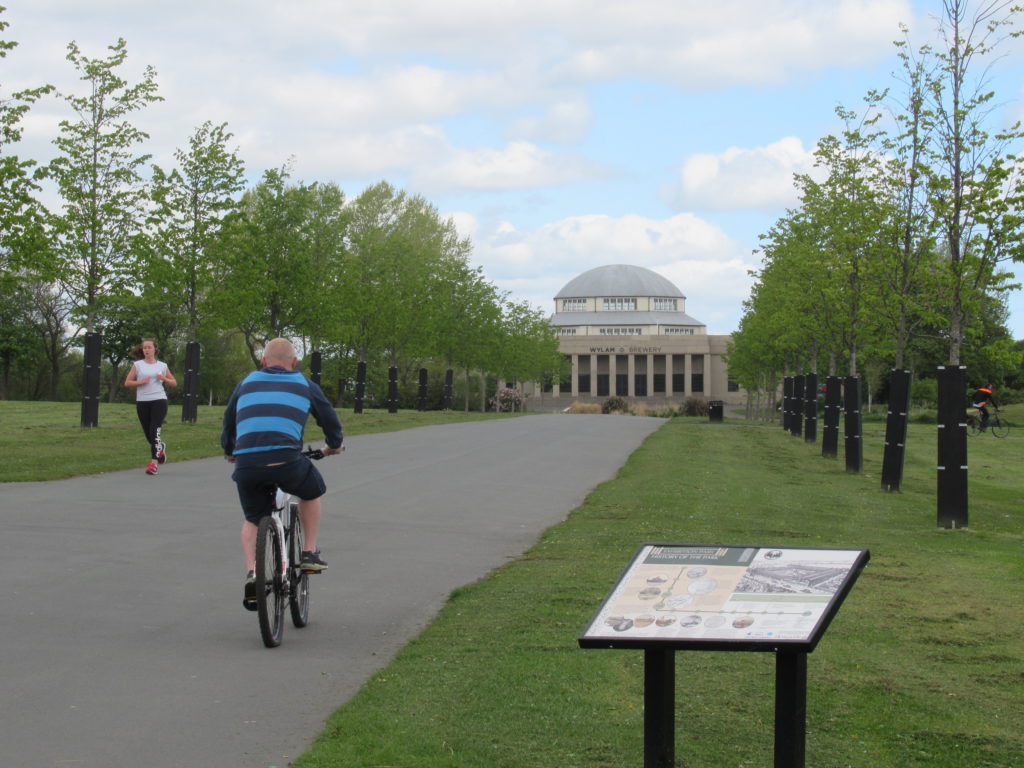 1929 The North East Coast Exhibition opened on may 14th 1929 by the Prince of Wales. The exhibition brochure included a birds eye view of the main exhibition buildings. The site was divided by a main axis along an avenue which led past an illuminated Fountain to an Amusement Park with a Scenic Mountain Railway Glacier Glide, The Aligator Giant Racer and the Witching Waves which were adjacent to the lake after it was extended. The 1929 Exhibition was reported globally as a major event. Original newspapers can be viewed in the Local Studies Department of Newcastle City Council.
1930 The majority of buildings were demolished in 1930 and the park name was changed to Exhibition Park. The Palace of Arts was retained, largely because it was of a stronger construction having housed important art works.
1934 Restoration of Exhibition Park began, using a scheme for the unemployed. The Palace of Arts housed the Museum of Science and Engineering from 1934 until 1979 including a model of the historic boat, Turbinia.
1940 The Ordance Survey map shows the avenue leading to the boating lakes and bridge over the lake to the former Palace of Arts and the croquet lawns. The plan also shows the retention of features from the previous exhibition including the floral displays of the bandstand as laid out for the Mining, Engineering and Industrial Exhibition in 1887 and the retention of tennis courts as laid out as part of the North East Coast Exhibition.
1963 Between 1963 and 1986 annual Tyneside Exhibitions were heldin the park to promote business in the area.
1974 Octagonal bandstand north of the lake demolished
1986 Following heavy financial losses, due in part to recurring poor weather, the Tyneside exhibitions were abandoned.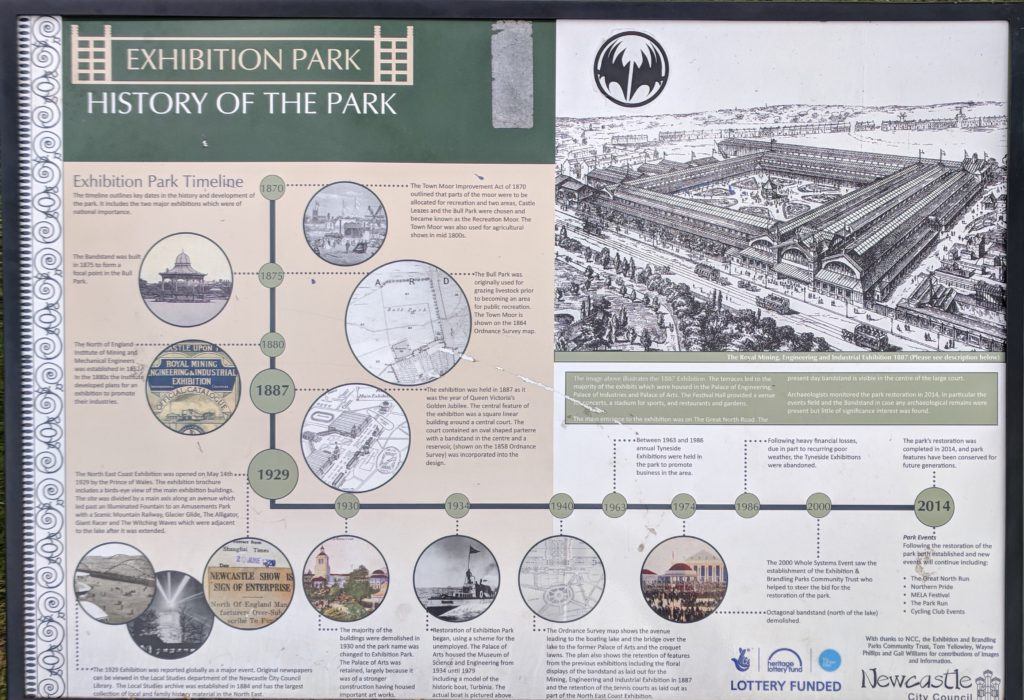 2000 The 2000 Whole Systems Event saw the establishment of the Exhibition & Brandling Parks Community Trust who helped steer the bid for the restoration of the park.
2014 The parks restoration was completed in 2014, and the park features have been conserved for future generations.
Park Events
Following the restoration of the park both established and new events will continue including:
The Great North Run
Northern Pride
MELA Festival
The Park Run
Cycling Club Events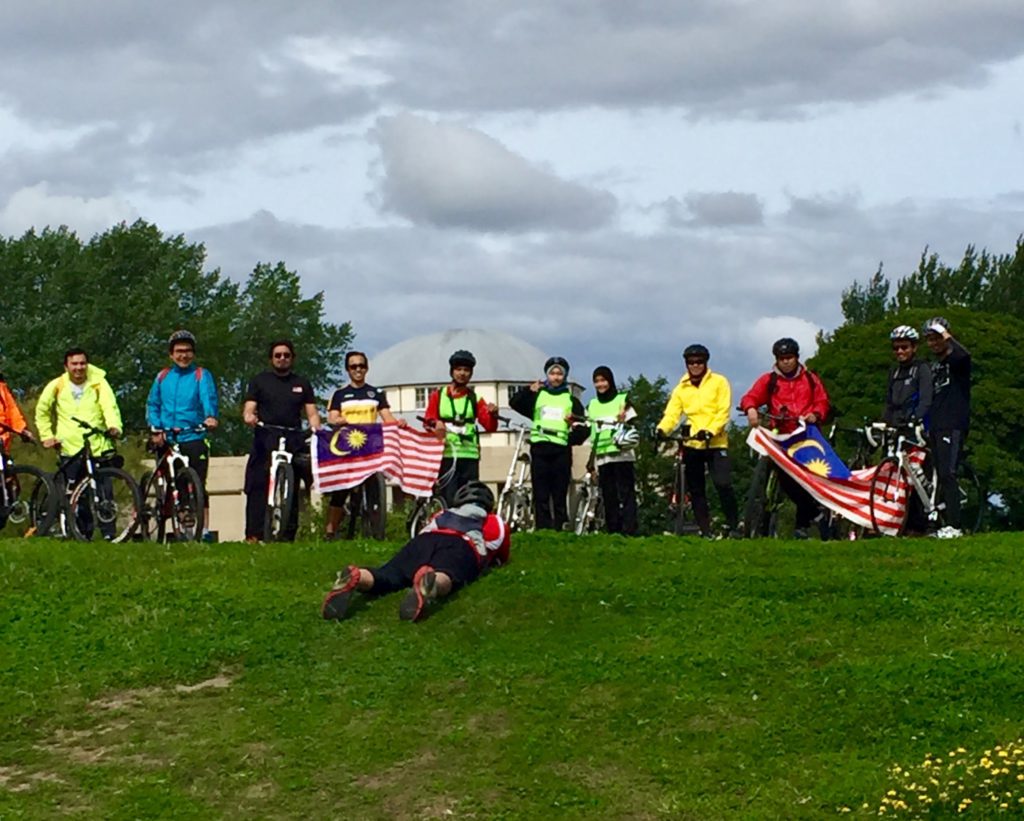 Related pages