Sallyport Tower was one of the main defensive fortifications forming part of Newcastle's city walls, built 1265 – 1307. The tower was named because it was said to be used as a gateway from which the town's garrisons would 'sally forth' to defend the city against Scottish beseigers.

The postern gate was often used in times of siege for sallying forth (rush out from place of defence) to attack the marauding forces. What you see today is not the full original Town Wall Tower as the upper part of it was destroyed during the 1644 siege by the Scots, the present structure is a restoration by the Shipwright's and Carpenter's Guild who used it to hold their meetings after it ceased to be a defensive Tower.

From the information panel "This much altered tower stands on the line of the realigned Town Wall, built after 1298 to enclose the district of Pandon which had become newly incorporated into Newcastle. It was probably constructed about 1307, and stood on a hill called the Wall Knoll which was part of a precinct of the first Carmelite or White Friars.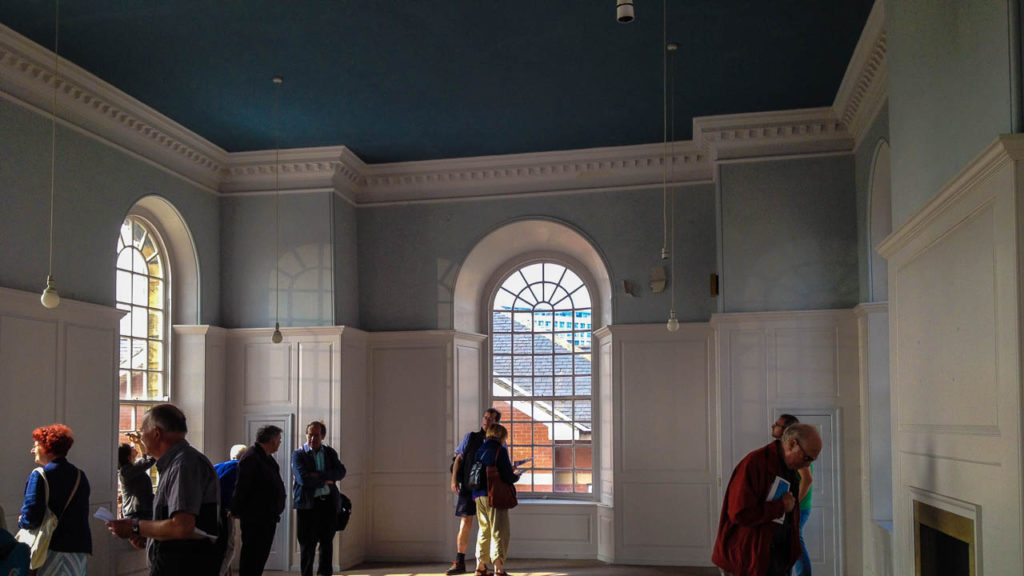 To the west, the Town Wall dropped steeply into the now infilled Pandon Dene, and beyond Pandon Gate it rose again to join the Corner Tower. Eastwards the Town Wall curved gradually southwards to the River. The Tower was leased by the Corporation of Newcastle to the company of Shipwrights (also known as the Carpenters), at least as early as 1638.
The Company rebuilt the upper part of the Tower in its present form in 1716. In 1957 the tower passed back into the hands of the Corporation and was extensively restored The Tower is rectangular, which is unusual on the Town Walls of Newcastle, where D-shaped towers were normally built. The only other tower of similar shape was on the riverside on the western part of the circuit, probably built in the 15th century.
The present arched gateway and walling on the left belongs to the Shipwrights rebuilding. Before this the Tower projected forward from the Town Wall and had loopholes in all three sides. The interior has a plain vault to the ground floor chamber and is unusual in having a spiral staircase rising from this chamber to the Wall walk."
Related pages