The Banqueting Hall is being restored by the Tyne & Wear Building Preservation Trust. The Hall was still being used for events and weddings as recently as the late seventies. Archive photos tend to feature warmly dresses diners,indicating low temperatures. A 1959 picture shows a 20 foot picture of Prince Hal, current whereabouts unknown. The Hall was built because Lord Armstrong's dining room was not large enough.
The Hall originally featured a water powered organ, water supplied courtesy of Paddy Freeman Park, visitors to Cragside in Northumberland will be familiar with Lord Armstrong's penchant for pioneering hydroelectric schemes. To get to the Banqueting Hall from Jesmond Dene, follow the road past the assorted peacocks and pot-bellied pigs, walk along with the river on your left until you see the aptly named Banqueting Hall Bridge. Climb up the stairs and cross over then follow the path to the left which leads up to Lord Armstrong's Banqueting Hall, built by John Dobson in 1860.
This building was Lord Armstrong's Banqueting Hall. For many years he had lived in a house overlooking Jesmond Dene but as his success and fame grew he needed a hall big enough to entertain his many guests. He hosted evenings for his workers here as well as visitors from across the world. The building was designed by John Dobson, the Newcastle architect famed for designing much of the centre of the City in the 1800s. The building was added to in 1870 with a gatehouse designed by the architect Norman Shaw. In 1884, a royal ceremony was held to mark the gift of Jesmond Dene to the people of Newcastle Upon Tyne. Prince Albert Edward, eldest son of Queen Victoria, and his wife Alexander were guests of Lord Armstrong. A turkey oak was planted by Princess Alexandra behind the Hall, which you can still see today.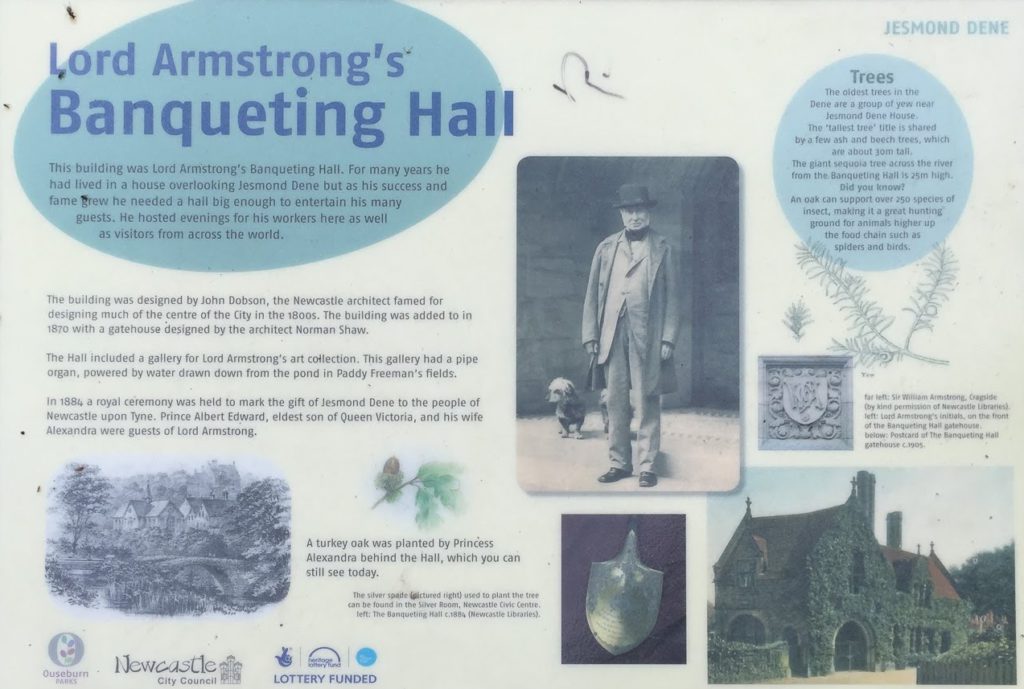 Related pages