The Town Wall turned sharply southwards from the originally intended line at a point near here now under the railway viaduct and ran down to the Close Gate and finally the river. This stretch of the Town Wall, the section surviving today was built after 1311 and completed by about 1333 as a response to protests from townspeople living in The Close which was to have been excluded from the defensive circuit.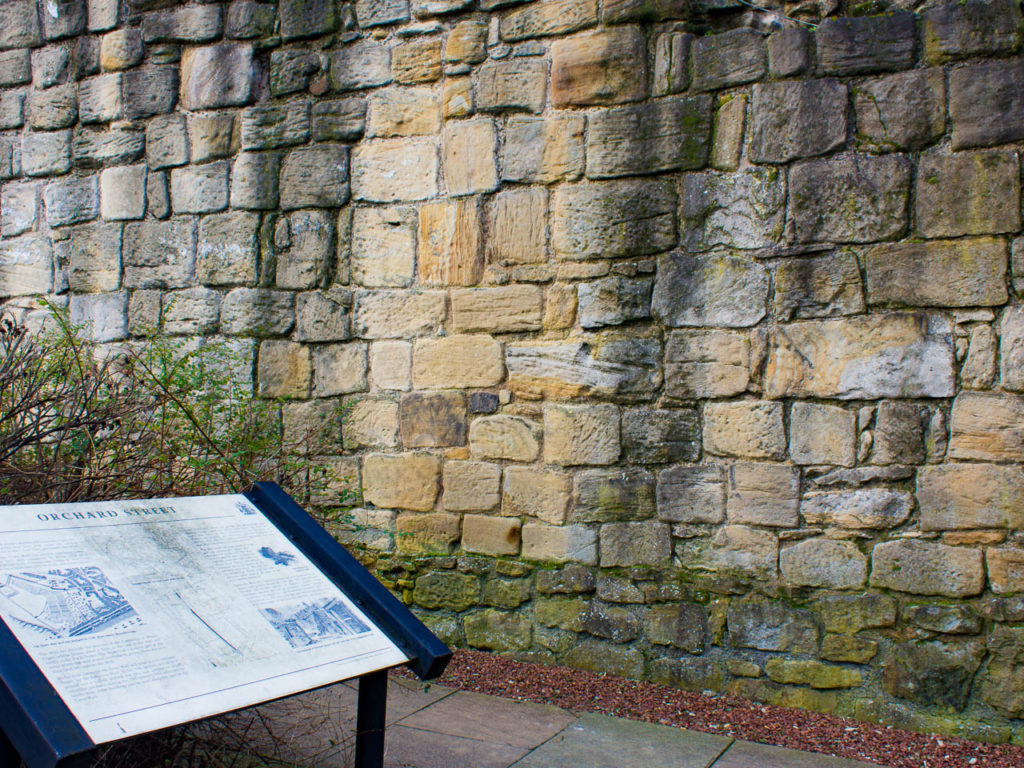 The Wall ran through the precinct of the Carmelite or White Friars, whose house stood a little to the east of the wall and partly under Forth Street. The Friars has a postern gate at the point where the wall angled southwards, giving them access to their land left outside the Wall. To the west, between the Town Wall and what is now Orchard Street, lay the defensive ditch.

In the 18th century this strip of ground was a walled orchard, but this was covered by small industrial premises during the 19th century. The holes left by rafters from these buildings can be seen along the face of the Town Wall. At the south end, where the ground drops down into Hanover Street, stood the White Friar Tower.

In 1614 the tower was leased by the Corporation for the Company of Wallers, Bricklayers and Plasterers, who used the building as a meeting house. The tower was demolished between 1840 and 1844. The Wall itself was raised in height and was considerably rebuilt after damage during the Civil War seige of Newcastle in 1644. A mine was exploded under the wall close to the White Friar Tower and artillery destroyed about 52 metres of the wall near Forth Street.

The wall and the White Friar Tower were put into defensive order again at the time of the Jacobite Rebellion. Inside the Wall the Carmelite Friary site was developed with houses and gardens during the 18th and 19th centuries and became patriotically known as Hanover Square. These buildings became part of an extensive brewery complex eventually occupied by the Federation Brewery until its demolition in 1985. The large gap and infilled openings are a legacy of the brewing industries use of the site.
Related pages