St. Ann's is a Grade 1 listed church consecrated in 1768. There has been a church on this site since medieval times. The present church was largely built with stone from the City Walls. The churchyard is among the last within the city to be closed for burials and is the resting place of many who died in the last great cholera epidemic.
St Ann's Church served as a Quayside church. Its various savings clubs, societies, guilds and festivals supported local Battlefield families through good times and bad. Today, St Ann's gives its name to the whole Battlefield area, now a quiet council estate built in the 1960s to replace the older terraces.
The Battlefield, like its neighbour Shieldfield, has experienced major changes in the last 50 years as riverside industries have closed and the Quayside has been regenerated as an office and leisure locality.
Nevertheless, there is still a strong sense of community and distinctiveness, as present and former residents continue to support the area through the Tenants Association on Breamish Street and the Friends of St Ann's Church.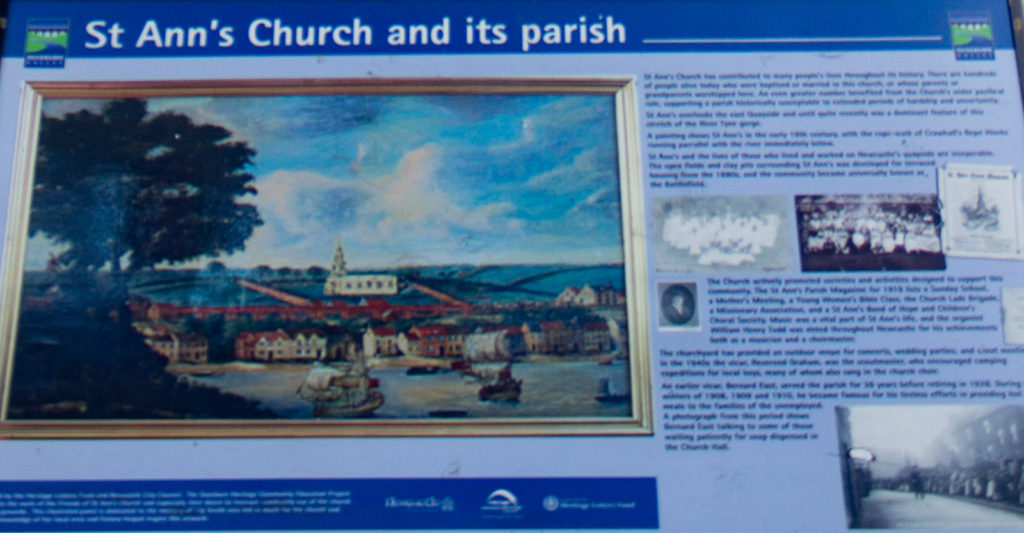 The residential area adjoining the west of the lower Ouseburn now known as St Ann's was originally known as the Battlefield. The origins of the name are unclear, as there is no record of any battle having taken place in the area.
The name might be a corruption of Bottle Field, which appears on a map in the 1870s and possibly reflects the practice of in-filling clay pits with local industrial waste. The glass bottle industry was concentrated immediately east of the Ouseburn for almost 300 years from the 1640s.
St Ann's Church is today the major landmark of the Battlefield, standing proud above the east Quayside. Originally established as a chapel of All Saints, the church became increasingly important to the area as the eastward expansion of the Quayside brought an influx of largely unskilled and semi-skilled workers to the area.
Until the 1880s much of the Battlefield was open ground, but thereafter the area was covered with terraces of flats and houses laid out in streets named after Northumbrian rivers – Pont Street, Breamish Street, Coquet Street, Wansbeck Street, Rede Street, and Blyth Street. These flats tended to be roomier and better built than similar properties in the lower Ouseburn, and Battlefield residents had a strong sense of local identity that focused more on the Tyne riverfront than the Ouseburn or Shieldfield.
Related pages