​The Newcastle Model Boat Club was formed in 1882, whilst the club house was built towards the end of the construction of the park prior to the exhibition of 1887, the year of Queen Victoria's Jubilee. The building was restored in 2014 The model yacht club allowed model yachtsmen to sail wind powered boats however steam boats and paddle boats were also popular.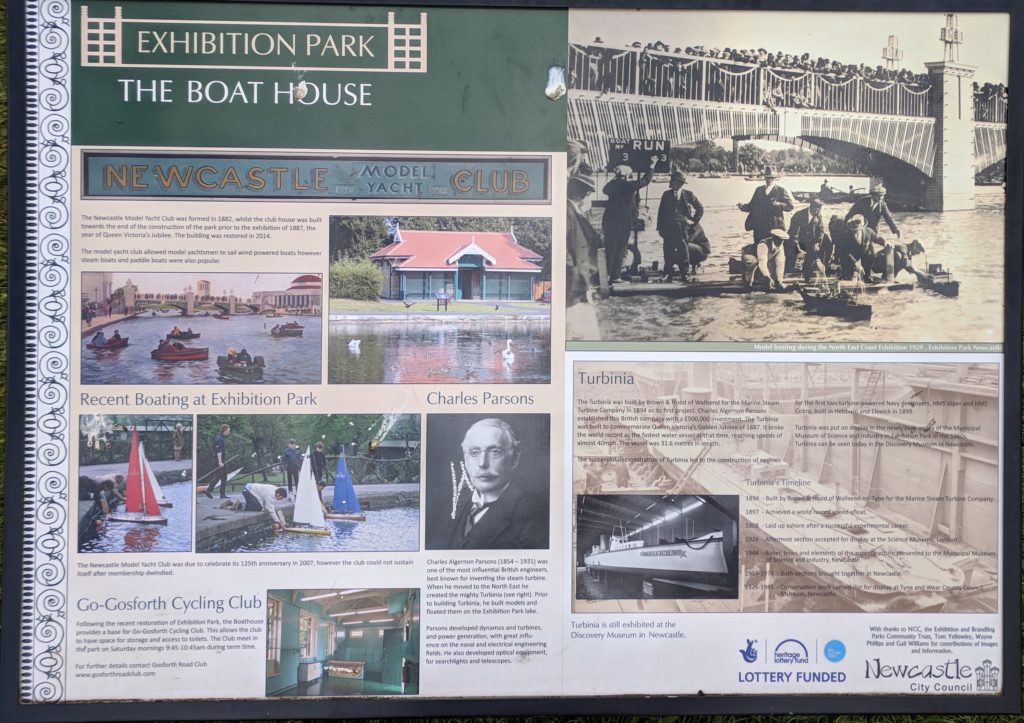 The Newcastle Model Boat Club was due to celebrate its 125th anniversary on 2007, however the club could not sustain itself after its membership dwindled. Following the recent restoration of Exhibition Park, the Boathouse provides a base for the Go-Gosforth Cycling Club. This allows the club to have the space for storage and access to the toilets. The Club meets in the park on Saturday mornings 9:45-10:45am during term time. For further details contact Gosforth Road Club www.gosforthroadclub.com
Charles Algernon Parsons (1854-1931) was one of the most influential British engineers, best known for inventing the steam turbine. when he moved to the North East he created the mighty Turbinia, he built models and floated them on the Exhibition Park lake. Parsons developed dynamos and turbines, and power generation, with great influence on the naval and electrical engineering fields. He also developed optical equipment, for searchlights and telescopes.
Related pages