Pottery, Glass and Livestock
You are standing on the site of Ouseburn Bridge Pottery, established by Robert Maling in 1817. Maling & Sons became the largest pottery on Tyneside. This site was the first of three pottery works established by the firm in the Ouseburn area.

|Today nothing remains of this factory. The kilns lining the wall behind you date from a later enterprise, the glass bottle works of Liddle-Henzell, operating from this site between the 1880s and the 1930s. This was the last of Ouseburn's once numerous glass works. The kilns were used to burn coal at very high temperatures, the hot vapour being drawn upwards to larger kilns and melting pots in which the glass was actually formed.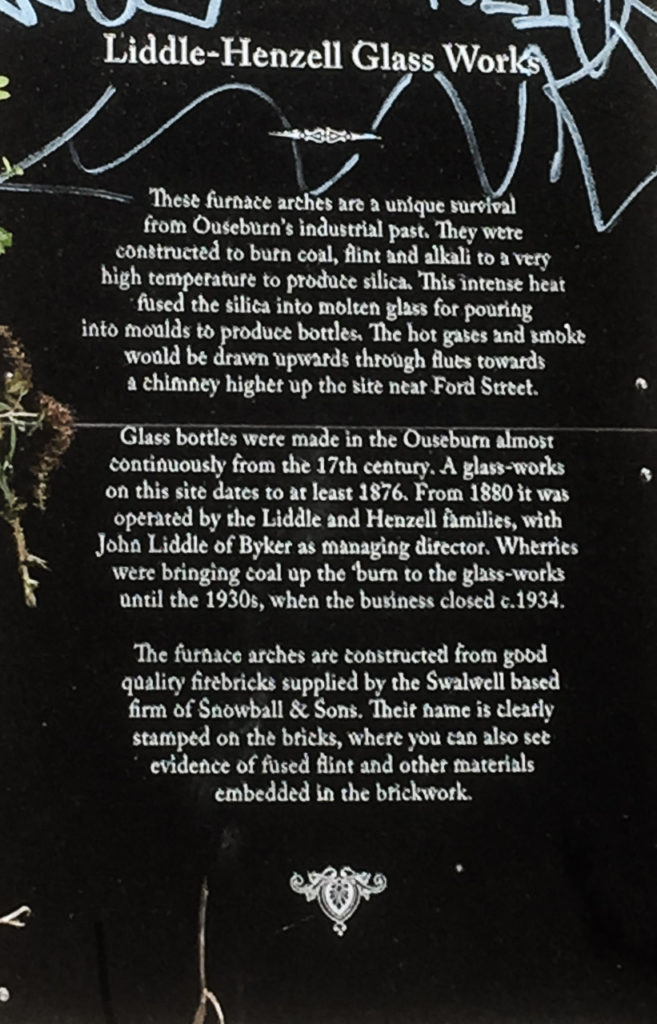 The bricks for the kilns were made by the Snowball Firebrick Works at Dertwenthaugh in Gateshead. Opposite stands the former Livestock Sanitorium, so-called because sheep and cattle imported from Scandinavia were held there for twelve hours before being confirmed by an inspector to be suitable for slaughter.
This huge site was developed in the 1870s. The two-storey building sited immediately north of the river was built in 1877 to hold 635 cattle and 3,000 sheep. By 1900 much of the meat imported from overseas was refrigerated, and the Ouseburn Sanitorium no longer needed. The photographs (plaque), show the Liddle-Henzells' glass bottle works and a view of the Ouseburn Bridge with livestock sanitorium on the left. Both are from the collection of Newcastle Local Studies.

Related pages