The Village Green was originally a place to live, being the site of a tenement and a number of houses for over a century. commemorative plaques have been attached to the railings and granite seating area to recall this heritage. The old properties were demolished before the War and for many years Village Green served as an informal beer garden for the Ship Inn.

Over the years the seating and assorted tables deteriorated in quality, whilst the bank lost much of its grass and became unsightly. The re-landscaping of Village Green was designed to reverse this decline. The lower half of Village Green is designed to act as an open piazza, with increased seating space facing onto an open performance space at the top of the slipway leading down to the river. This was achieved through the use of granite to provide seating that will stand up both to the weather and to regular use. This seating is tiered both to provide uninterrupted views of the musicians who gather here during the Ouseburn carnival.

The upper level was returfed and planted with shrubs and trees to act as a screen along Lime Street. New tables, seats and a litter bin were installed. These seats have been named after flowers that can also be girls names, and each has a decorative insert to reflect the historical association of the area with the white lead works, one of which stood directly opposite Village Green. The decoration of the seating is one of four pieces of work commissioned from artists to enhance the creative character of the landscaping.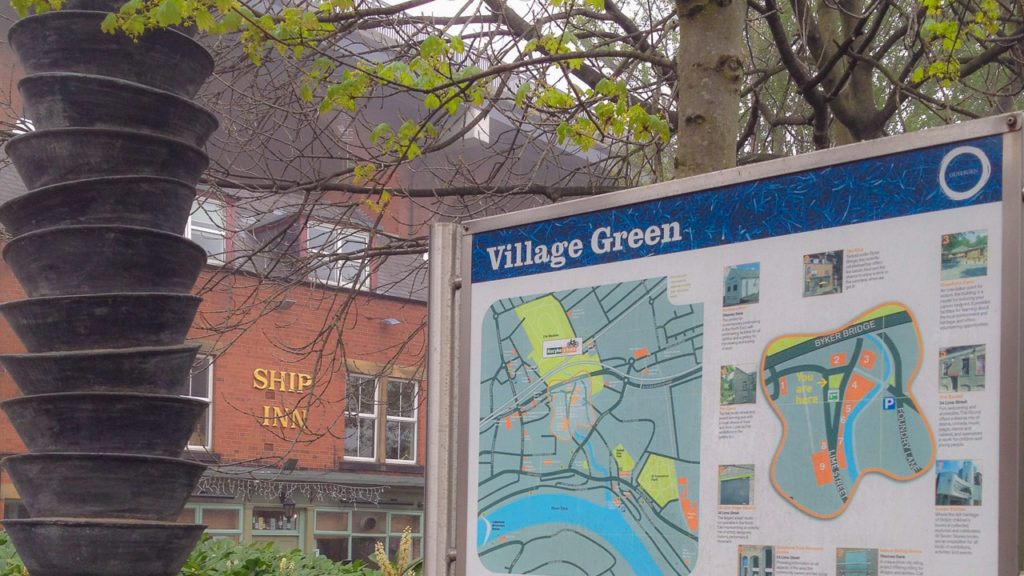 The entrance to Village Green is framed by towers of stainless steel bowls, similar in size and appearance to the earthenware bowls used in the old white lead trade. The photograph shows these bowls being stacked by some of the women that worked in that terrible trade. The same artist supplied the circular discs inset into the surface of the riverside walkway. These also reflect the heritage of the area in their choice of subject matter. In the doorway to the chimney adjacent to Village Green you can find artists impression of what the people who lived here during the last 100 years might have wished or believed. How much of this is true we will never know.
Related pages